It took me about 12 months of living in Brooklyn before I decided that I needed my own website. That isn't to say that I don't have several other websites already and that other people hadn't given me this suggestion numerous times over the years, but now its finally happened. With this in mind, for the first entry, a quick recap of a bunch of things I would have written, belated mini-blog posts for in the last year if I had been keeping up with it...
SXSW 2014
I went to SXSW 2014 with Game of Phones to be part of the AT&T / Vice Mobile Movement pavilion. We built a Telephonegram booth that played a series of continuous daily rounds for anyone passing by.
On the trip I also got a chance to visit with a bunch of VJs at a VDMX meet up. One of those opportunities to put faces to people that I've emailed with for years.
Actually managed to go out to concerts every night while there but sadly didn't get to make it to any of the interactive or film events.
Lastly, as a bonus got to shoot a slow motion video of my friend Juliette showing Lady Gaga how to control the stage visuals from an iPad.
NY Mappathon at Mapping Festival 2014
In late May I went to Geneva with my friends Chika, Anton and Tom for the 10th annual Mapping Festival. We ran a 3-day VJ workshop with a focus on projection mapping with students from around the world. There was also plenty of time to check out some of the events, presentations and performances over the weeklong festival, but the big highlight was just spending time talking with other visual artists in the beautiful city of Geneva.
For the festival I also got to do a short VJ set along with vade, 35 seconds of which you can watch in the included video and like a proper tourist I have a short slideshow of pictures from the trip.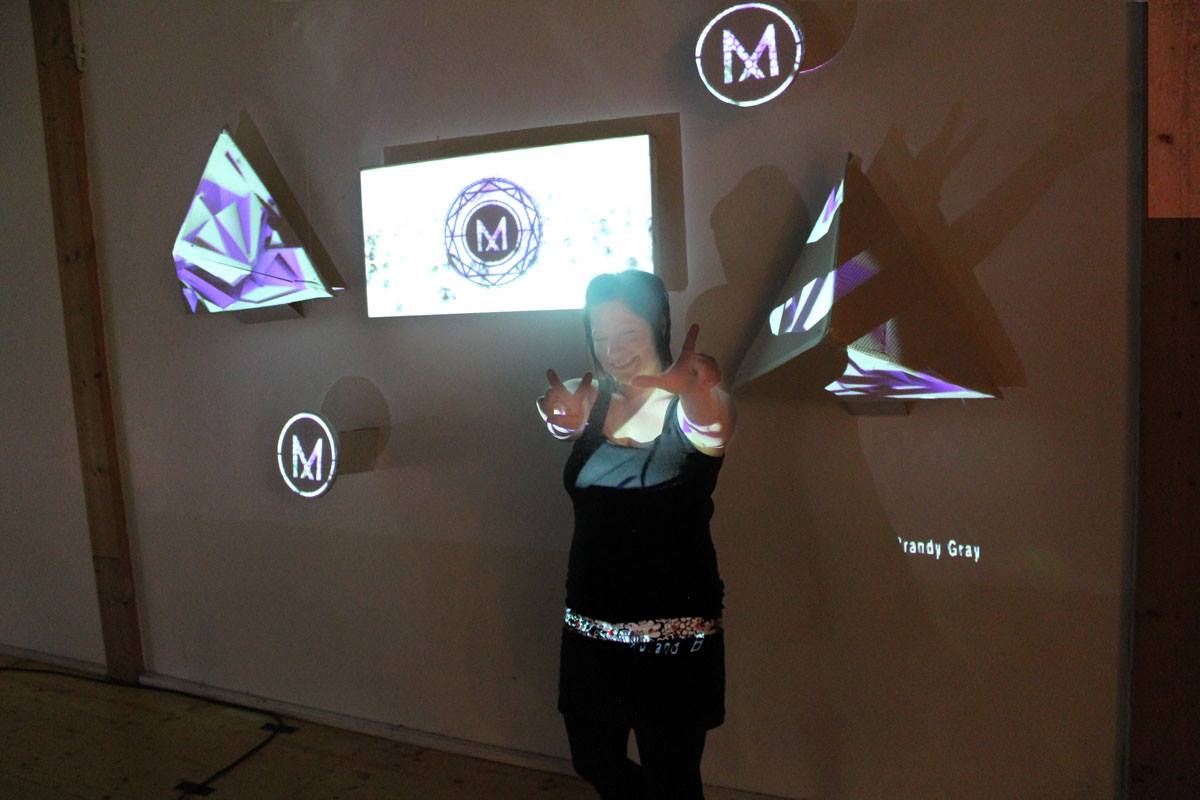 Shortly after the trip to Geneva it was off to Minneapolis for Eyeo Festival. This trip was a real treat, the presenters were all amazing and it was probably the friendliest, most excited cross section of the arts tech scene that I've come across so far. Frieder Nake's "Yes, Of Course" keynote speech was extremely fitting for the crowd, we all left the room carrying that spirit with us the rest of the week and then back home.
I also got an opportunity to do a 5 minute Ignite Talk on Game of Phones, the slides of which are available online (the video will be available soon). The best personal moment related to this was getting a high five from Nicholas Feltron and then finding out that I know the guy who does the visuals for his girlfriend.
Too many things to point out, all of the talks I went to were great, but in particular I was looking forward to seeing the ones from Jessica Hagy and Claire Evans who did not disappoint.
PS. There is a special Thank You round of Game of Phones for the Eyeo Festival organizers!
I helped out with a bunch of random events in NYC
Since my return a bunch creative agencies, organizations and friends have asked me to help out with projects they are working on. Usually my involvement is minimal, called in to assist with a few technical details at the last minute, but nonetheless they were a lot of fun to be part of and worth mentioning a few particularly cool ones in a single block..
Even though the last year has included a lot of travel I'm most excited just to be back in my hometown. It's really my favorite place (so far) in the world and I'm not sure how I stayed away for so long. It probably had something to do with having such amazing friends up in Troy, who are all now encouraged to visit or move here to be closer to me.
I won't hang on this so just to throw out a few highlights in the BK, reconnecting with old friends, making lots of new friends, not missing family events, reconnecting with bagels, getting to go to lots of concerts, getting around by subway.. and I'm also a fan of having a skyline view. There's still a lot of readjustment to do and it feels like I still need to move faster to keep up.
And that's a little of what I've been up to over the last year. More to follow as it happens.